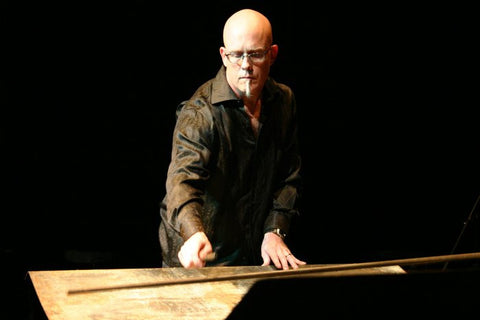 Neil Feather
 Sound Mechanic Neil Feather has been creating radical and unusual musical instruments since 1970 and is increasingly known as one of the most original musical thinkers of his day. His instruments each embody uniquely clever acoustic and engineering principles, and are visually arresting. The music he plays on the instruments is equally original, embodying new principles and resulting in a nearly alien idiom of music.
Neil Feather has been involved in Baltimore's fertile and eccentric culture since moving there in 1985. He was a founding member of the Red Room Collective and the High Zero Foundation, a group committed to the presentation of experimental and improvised music. He has a long history of collaborative projects and solo concerts.
Some of his major music projects are The Official Project, Thus, Aerotrain, Elephantitans and Mugwump. These groups all centered on Feather's instruments and compositions.
Feather's work has always been fully rooted in art and music together in concept, execution and performance. His deep involvement with Baltimore's experimental music community compliments his wide international acclaim. He won the 2014 Sondheim Art Prize and the 2014 Trawick Art Prize. He was included in a major exhibition "Art or Sound" in the 2014 Venice Biennale.